Our Week 2 and Week 3 Reading Challenge winners were recognized this afternoon. Week 2 winners were: Kinsley, Clio, Jameson, Nova, Amelia, Addy, Kallie, and Karsen. Week 3 winners were: Kinsley, Delaney, Jameson, Nova, Amelia, Sophia, Addy, and Ayva.
Good afternoon, this is Mark Kenney from Telstar with an announcement that the Telstar PTA is changing their community Bobsled event that was previously scheduled for this Sunday, March 6th to Friday, March 4 starting at 5pm due to the predicted weather on Sunday. We apologize for the last minute change, but didn't want it to be a washout or sloppy time outside together. We hope that you can still join for the fun! Thank you.
We are hoping to get as much of the community out to support this family filled fun day following the inspiration of Frankie DelDuca of Telstar and Team USA. Hope to see you all there as participants or cheering spectators alike!! Please help spread the word and happy building!!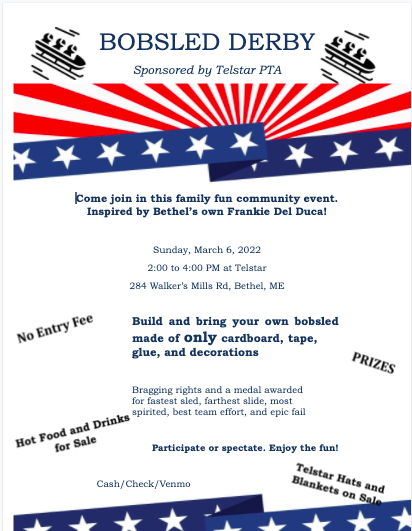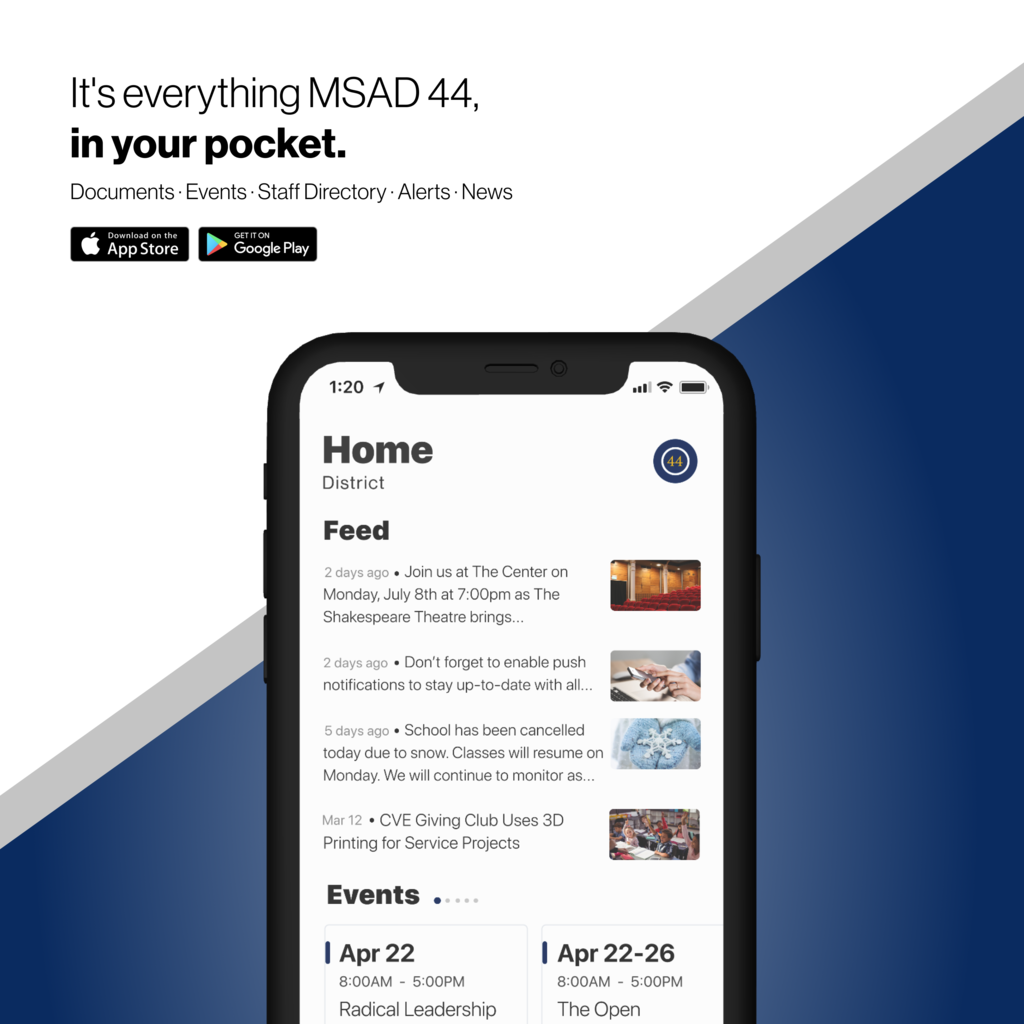 On behalf of the Telstar All Sports Boosters I am reaching out. We recently took on the Football Boosters/Snack Shack. Our community is very excited to have Football again and we want to support it anyway we can. That being said, we need volunteers. We need volunteers to donate food and time to run our snack shack during games. This season the high school only has 3 home games. The snack shack in the past has made hand-cut fries, burgers, hot dogs, grilled cheese, crock pot items, baked goods and beverages. We need people to set up/cook/take down from about an hour before games until the game ends. We recommend working in 1-2 hour shifts. Many families and community members come to our games and are there for 3-4 hours. Offering food is a must, however we cannot offer food if we do not have the volunteers to help. Keep in mind all money we make goes back to the students and athletes. In the past we have been able to purchase batting nets, water bubblers around the school, provide lunches for away games, donate money towards uniforms, give t-shirts for Athletes of the Month and we also put on a Sport Banquet for Senior Athletes each year as well as plaques for athletes. There is a home football game this Saturday the 11th. We are looking for volunteers/donations for our limited menu until we get more volunteers. Please let me know if you can donate an item or your time. You can email me at
fraserk21@sad44.org
Thank you, Koral Fraser


MSAD #44's Annual Child Find Notice - MSAD #44 has a legal responsibility under the Individuals with Disabilities Education Act to locate and identify all school age children (ages 5-22) within the district who may require special education services due to an educational disability. This includes students who are attending public and private schools, and who are homeschooled. Children may be eligible for special education under the following disability categories: Autism, developmental delay, emotional disturbance, multiple disabilities, other health impairment, specific learning disability, speech or language impairment, visual impairment, hearing impairment, deaf-blindness, orthopedic impairment, traumatic brain injury, and intellectual disability. If you have a school-age child or know of a child residing within MSAD #44 who may have an educational disability and may need special education services please contact Jeanne Cordeiro, Director of Special Services, at (207) 824-2136 ext. 1309. If you have a child between the ages of 3-5 who you suspect may have a disability that requires special education services, please contact Child Development Services (CDS) Opportunities in Oxford at (207) 743-9701. Full Notice here:
https://5il.co/xe6e